We love working with brands that help improve people's lives and build healthy communities. At the core of every healthy community, is family. So naturally, our work often takes us to where the kids are! Having kids on a set can be tricky and challenging. We can't expect them to have the same amount of patience as an adult. But over years, we've developed a few standard practices or guidelines to apply whenever we work with children on set, and we found it works wonders! So we'll take you behind the scenes with us in this article, and share a few of these practices.
In this particular case, we produced a video involving therapists and children at the Early Autism Project Malaysia. While there are extra things to take note of when working with children on the autism spectrum, these production guidelines are quite applicable when working with typical children as well.

1. Use simple but effective equipment
It's less intimidating for children (and adults) when there's less equipment involved. It also helps to reduce the amount of distractions in the room. So we pick our equipment with this in mind, avoiding any unnecessary accessories or tech. Using only what we really need means an easy set up process and it saves time too! Remember, children don't have much patience and you want to get your shots done while they still have the mood and energy for it! So, every second counts!

2. Spend time building trust
Children sometimes take awhile to warm up in the presence of a stranger. It always helps to remember that they are people too – even though little! So we practice treating them with respect by giving them time and space to warm up to us and get used to having our presence in the room with them. This means, no demanding that they do certain things for the camera. It also means always asking if they're comfortable with us first, before we hold their hand or help them sit or stand wherever we need them to.
We also build trust with the client! That is, the company who has hired us to photograph or video record these children under their care. Building trust means, keeping in mind what the client really needs. For example, at EAP Malaysia, its very important that they show how their therapists interact with children in a safe manner, and how activities are done following their recommended treatment method. So we ensure our photos and videos reflect those key messages.
You might find this interesting: Brand Photography Tips for Working with Children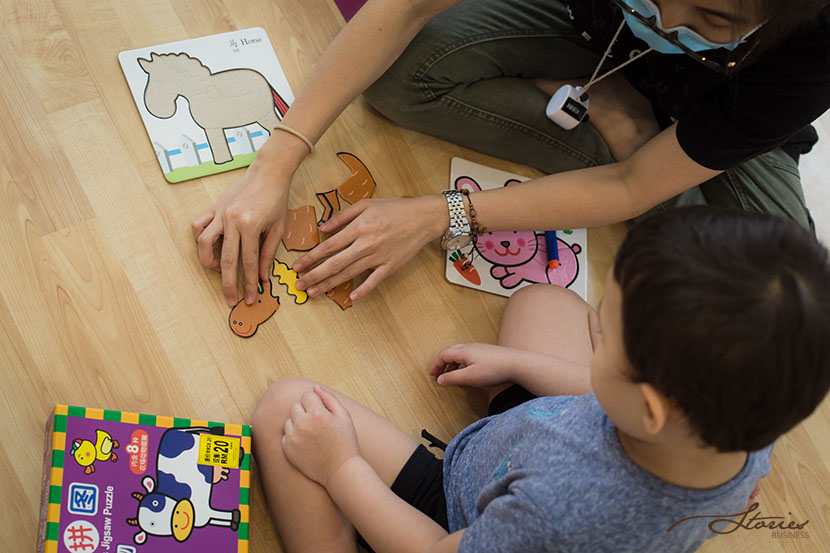 3. Capture real moments
The best kind of moments are real moments. To get these magical moments on camera, we adopt a documentary approach. That means, as little to no interference if possible. Children are very genuine. If they feel sad or nervous, they'll show it. If they feel happy and comfortable, they'll show it too. So children are best captured on camera when they are in their most natural comfortable state.
4. Be flexible
You never know when a child might need to go to the bathroom or in a worst case scenario – throw a tantrum due to lack of sleep or the need for attention. So while we have a few key shots in mind, we're also flexible. Sometimes we might plan to capture a certain activity at the start of our shoot, but if the child isn't cooperating and seems to prefer doing something else, we quickly recognise that and work with that situation to get a useful shot. The one we had in mind can always be done later on – or replaced with something similar. The idea is to work quickly and be alert to the mood in the room! Another example of flexibility is, when needing to protect the privacy of a child if their parents haven't given media consent. This means finding new angles to capture key moments without showing the child's face, yet ensure the photo or video moment still tells a story and is well composed.
At the end of our shoot, we sometimes give out little goodies for well-behaved kids. After all, who doesn't love a special treat after a hard days' work!
Also read: 6 Reasons to Produce an Educational Video to Market Your Brand