A brand is so much more than just a logo, some colours, and chosen fonts. The elements that make up a brand can extend to texture, materials, tone of voice, writing style, patterns, shapes, motion, sound, scent, and more! If you think about it, a comprehensive brand should be able to make someone feel, sense, taste, touch, smell, listen, and see. It encompasses a combination of many human senses that have the potential to create meaningful connections between the audience / user / customer and what the brand represents and stands for. Whenever a person interacts with a brand through any one of these channels, this called a "brand touchpoint".
So what does this mean for a business professional like you?
When it comes to personal branding, you are your own brand. Everything about you sends a message to others. You could say it's in the way you dress, the topics and issues you care about, how you portray yourself physically in public and digitally online, the kind of places you are seen at and the people you spend time with, and most of all – how you speak, manage different situations, and how you treat others. However, your target audience and potential customers won't always get the opportunity to experience all these "touchpoints" that make up the "brand of You".
In a digital-first age, the first touchpoint people often have with your brand is purely visual – limited to their laptop or mobile screen. So how can you make the most of that visual experience to captivate attention and communicate a clear idea of who you are and what you believe in?
This is where a solid brand photography package comes in.
Photographs that are taken as part of a brand photography package could include:
1. Professional headshots
These are photos where you're looking at the camera and you might use these photos as profile images for LinkedIn, Whatsapp, email, your web profile, or even your office access card at work. You would pick your outfits carefully, ensuring that the colours, style, size, and textures of your outfit complement your body shape and skin tone to represent your personality well – even while looking professional. Back in the day, the kind of backgrounds used in professional headshots were typically taken in studios only. These days, people are more open to taking them outdoors with whatever background of choice they prefer.
Here's an example of a brand photography package that includes professional headshots and some lifestyle portraits too.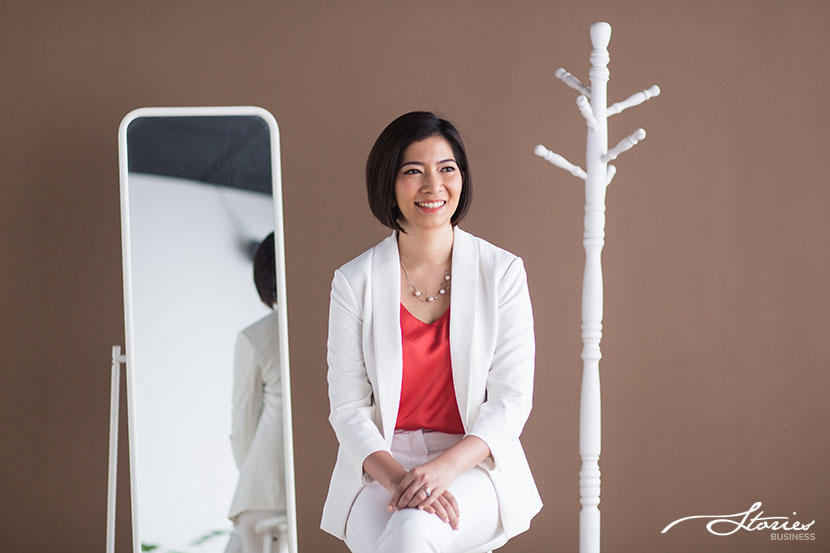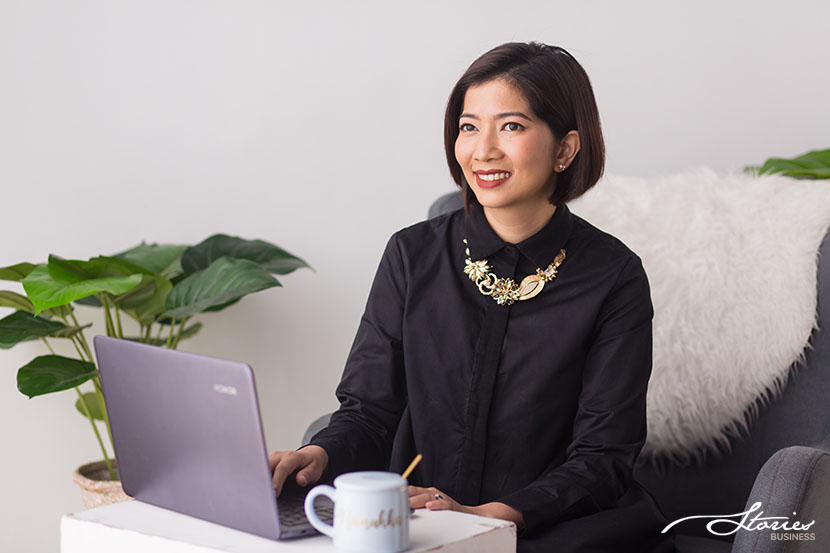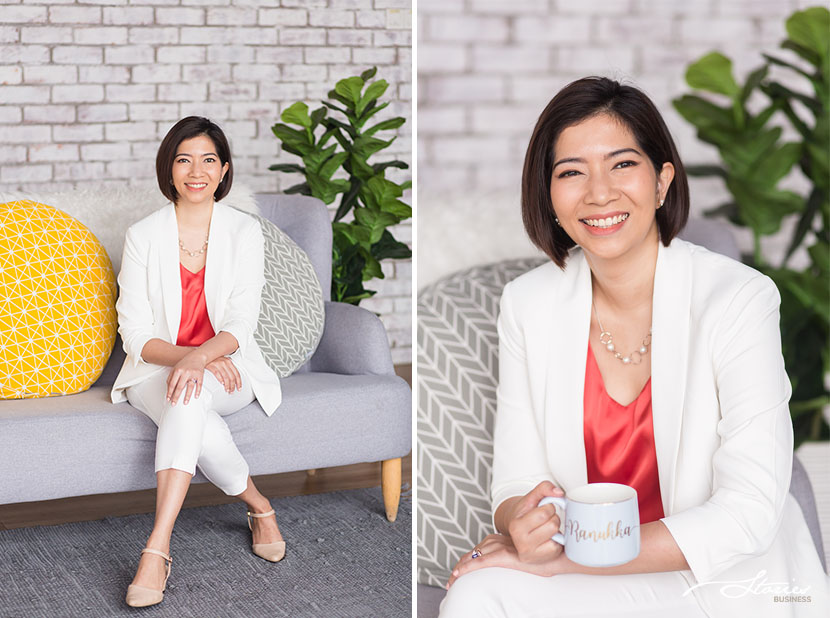 This series was taken at our studio with Ranukka Singham – an Image & Perception Coach, Personal Branding Strategist, and International Speaker & Corporate Trainer. She is also one of LinkedIn Malaysia's Most Inspirational Icons in 2020. Find out more about her business on her LinkedIn page here. 
2.Lifestyle portraits
These photos can be more casual and candid. You could still be wearing the same outfits as your professional headshots, but the photos would be taken in a real-life setting without you necessarily looking at the camera all the time. It could be in your office, a nice coffee table set up, by the window, or with whatever backdrop your workplace looks like – a nursery, construction site, clinic, school, restaurant, etc. The purpose of these photos are to give your viewers an idea of what you do for a living. You can use these on your website or as regular content for your own social media platforms.
Sometimes we also set up our studio for lifestyle portraits using furniture and props that are relevant to your brand. This is useful for solopreneurs and freelancers who may not have their own suitable workspace for a photoshoot. We encourage clients to bring their own props if they'd like to include it in the photoshoot as well.
Here's an example of a brand photography package that includes lifestyle portraits of a dancer.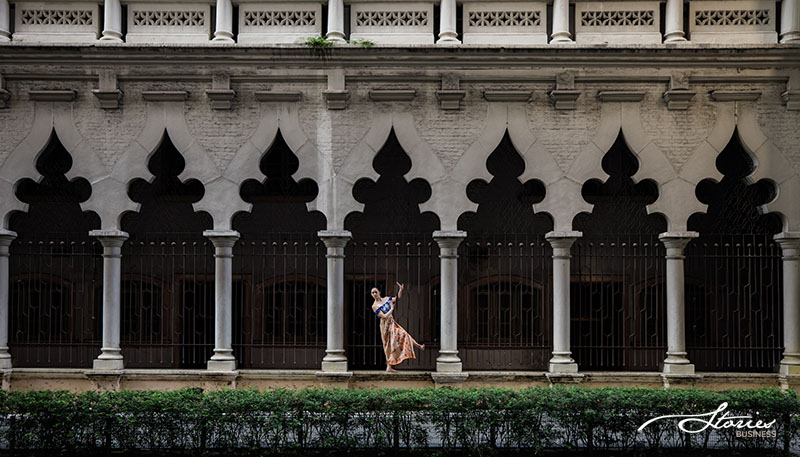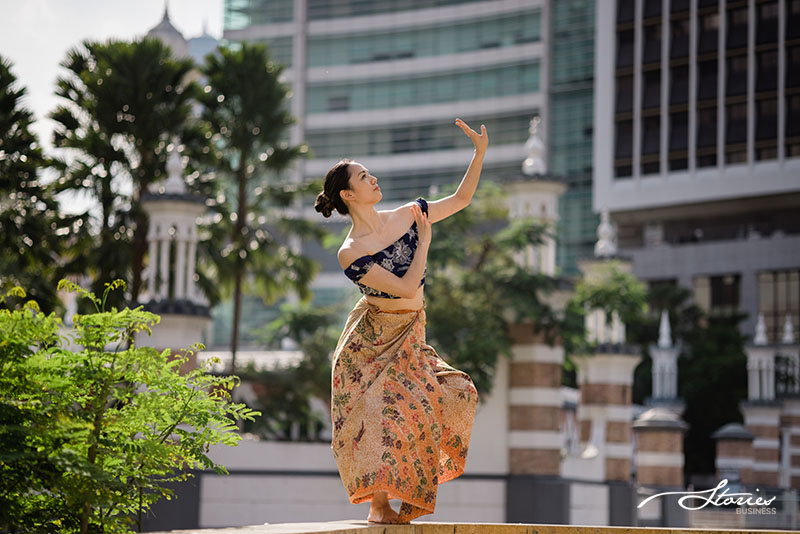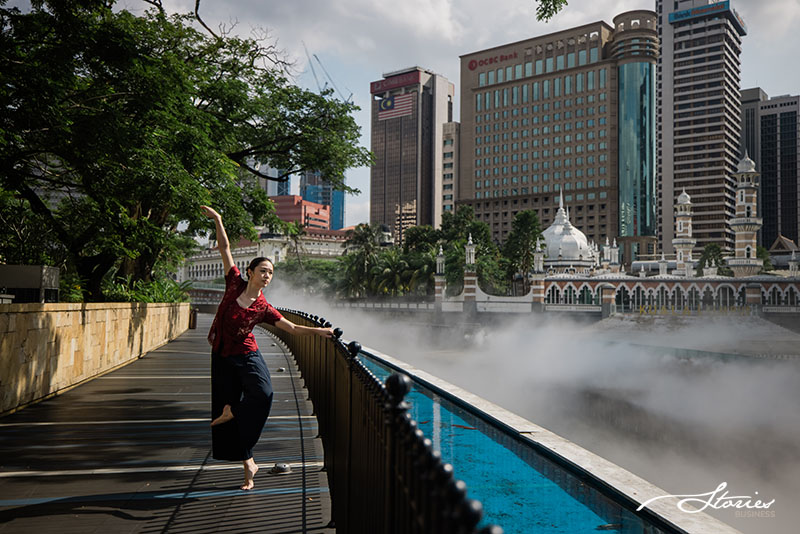 These shots are part of the collection that was taken with Joanna Koleth, a dancer, movement educator, and Pilates instructor. It was part of a campaign photoshoot for Malaysia's Merdeka Day in 2020 and included the historic and modern backdrop where independence was first declared in Malaysia. Find out more about her services on her Instagram page here. 
3.Product shots
Product shots will be included in your brand photography package if your business sells products. Lighting, styling of products, and entire set up will follow a mood board that represents your brand. For example, if you're a florist that values simplicity and minimalism, your products would be designed that way and so will the product shots. If you're a florist whose brand is full of joy, colour, and vibrancy, then your product photos would look quite different to the first example.
Here's an example of a brand photography package that includes professional headshots and product photos.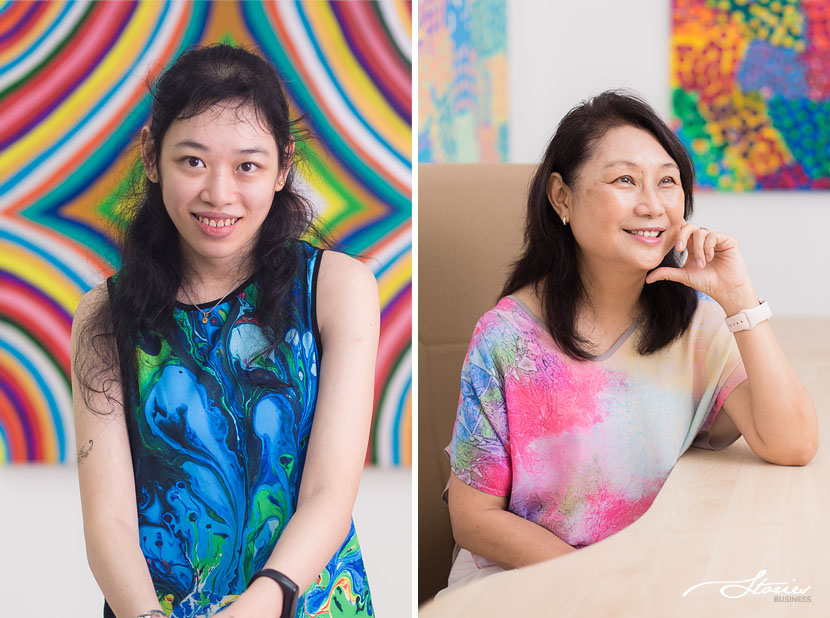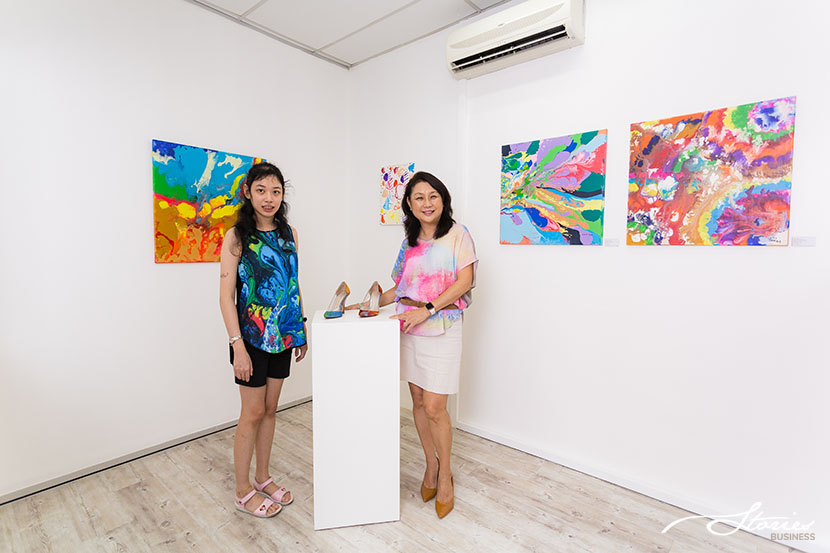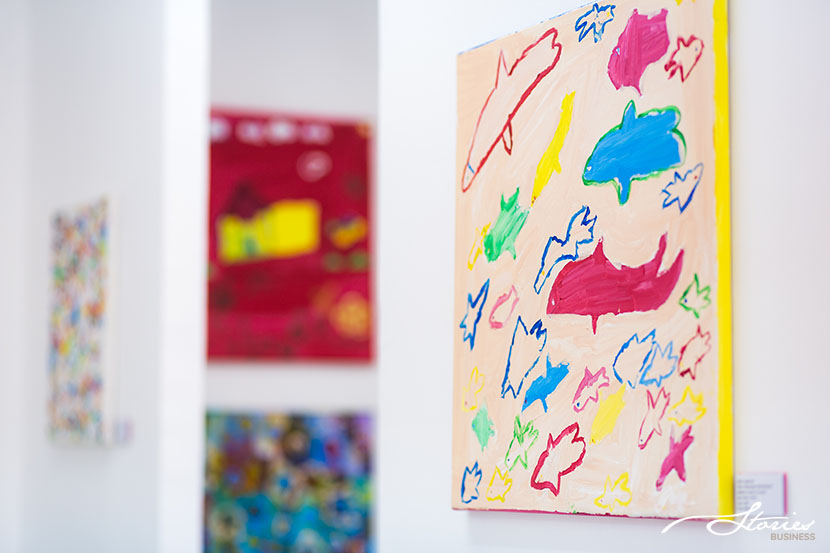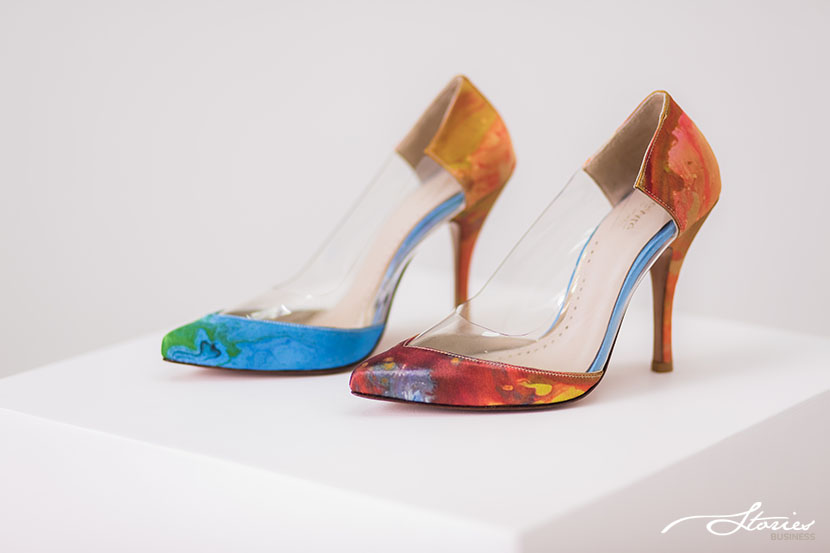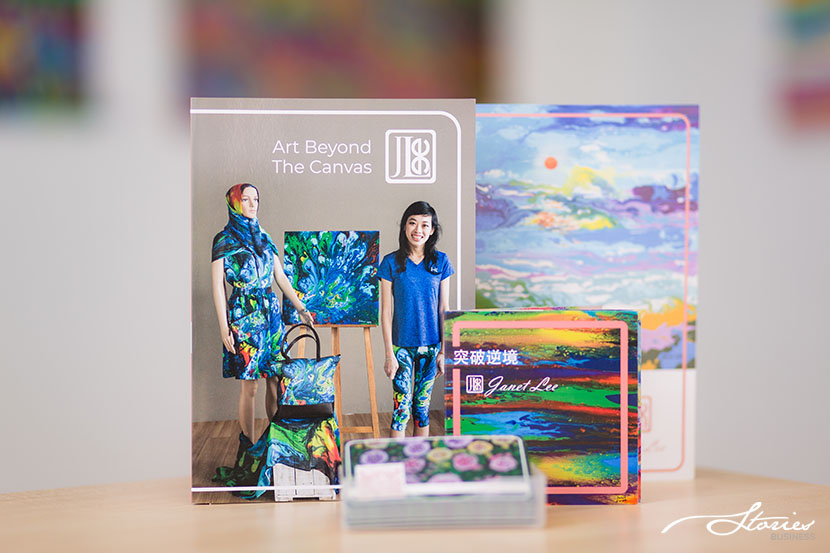 These shots are part of the collection taken for Joyce Moi and her daughter Janet, at Janet's Art Gallery. Despite being an epileptic and diagnosed as intellectually & developmentally delayed, through her art Janet shows that with patience, determination and hard work, everything is possible. Her dream now is to grow this business and to be recognised and accepted as one of us and not as someone with "special needs". Find out more about her art on her Facebook page here. 
4. Environmental shots
This isn't compulsory, but it can add to your library of images used for your brand or a specific campaign. For example, a stationery designer who creates travel journals as a product, may want to have a collection of photos that evoke a certain feeling or desire for travel and adventure. These photos may or may not include the actual product item, but it complements the lifestyle and vibe that the item represents. These environmental shots could be a series of beautiful sunrises, romantic sunsets, fresh white sand, an iced latte on a wooden bench… scenes that perhaps could make someone feel like it'd be good to own a travel journal and write their reflections down in these moments. It could also just be a photo series of backdrops that include textures, materials, shapes, and colours that represent the brand.
In conclusion, a good brand is one that you remember without trying much. Think about the colour combinations of red and white and you might think of Coca Cola. A certain shade of blue and yellow might remind you of IKEA and subtly, the flag of Sweden (where IKEA was founded). Sometimes you might notice a certain fashion style in the store window when you shop, and it reminds you of someone you know – perhaps because that person consistently uses that style. Or when you see a combination of exposed concrete and copperware, it might remind you of the interior design in a café you've been to and how that environment made you feel. These are all examples of visual brand touchpoints.
Now the question is, what kind of visuals do you want people to remember you by?
We offer brand photography packages as part of our range of services. If you're interested in having a brand photography package shoot but you're not sure where to start, that's okay! Contact us and our creative team of photographers will be able to brainstorm ideas with you before the shoot, so that we can be well-prepared and ensure that these images truly represent your personal brand.